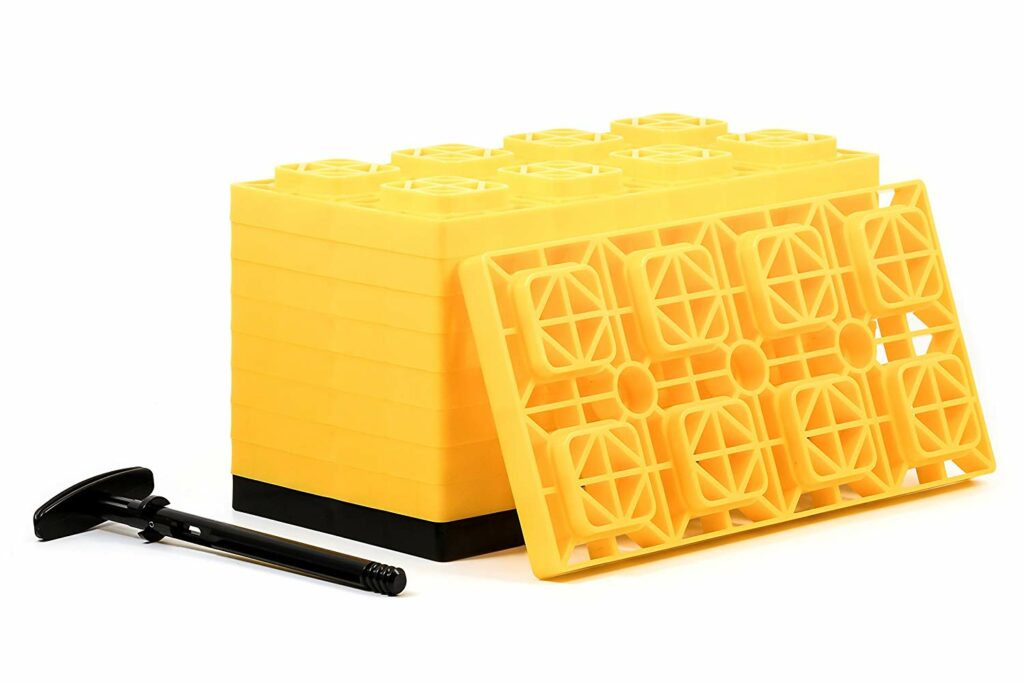 Camco Yellow 44515 Fasten Leveling Blocks
The Camco FasTen Leveling Blocks allow you to stack the interlocking blocks to the desired height for safe and easy leveling. Each block adds a full inch to stack height. Camco's FasTen Leveling Blocks can be used with single wheels, double wheels, hydraulic jacks, tongue jacks, stabilizer jacks, 5th wheel jacks and tandem axles. The convenient carrying handle easily pulls up for carrying, or twists down to secure blocks together for storage.
They have a strong, durable construction and are engineered with a patent-pending design to optimize both strength and weight. Resin is UV stabilized and built to last even when exposed to sunlight for extended periods of time. Bright, visible yellow color helps you see them so you don't leave them behind. They can also be used to help prevent your stabilizers from sinking in soft ground.
How To Use Them:
Once you have parked in your camp spot, use levels to determine whether or not your vehicle needs to be leveled. Determine the stack height needed and arrange the leveling blocks in front of the wheel in one of the approved configurations. Do not stack leveling blocks more than 4-1/2 inches high. Drive very carefully onto the blocks; it may be helpful to have a passenger step outside to guide. Once the vehicle is on the blocks and level, make sure to set the parking brake. When you're ready to leave, simply drive off the blocks, park the vehicle, collect and stack the blocks, and twist in the included carrying handle.
Specifications:
Camco's FasTen Leveling Blocks 4×2 measure 17 inch x 8-1/2 inch each and can be used with stack jacks, trailer tongues, 5th wheel jacks and swing arm supports. If dirt or debris build up in the leveling blocks, just knock it off and hose it out before storage. Stack height should not exceed 4-1/2 inches.
Robs Review:
We ordered 2 sets of these blocks to level up in our back yard. The width was perfect for our Dual Rear Wheels! Convenient and easy to use, comes with a locking handle to carry & store the blocks when not in use. Highly recommended! For Sale on Amazon.